"
Yes, my master is right here. This person will become my master for me.
"

—Retrace XXXVIII: Scapegoat
Gilbert Nightray (ギルバート=ナイトレイ, Girubaato Naitorei), usually nicknamed Gil (ギル, Giru) or Raven (鴉 "レイヴン", Karasu "Reivun") was one of the central protagonists of Jun Mochizuki's Pandora Hearts. He was the childhood friend and former valet of Oz Vessalius. An amnesiac, he first met Oz fifteen years before the events of the story with no memory of his family or past. When Gil was around fourteen, Oz disappeared into Abyss. Shortly after, the Nightray Dukedom adopted him. There he learned of Vincent, another adopted son of Nightray, who claimed to be his younger brother by blood. Gilbert's adoption allowed him to join the government research organization Pandora and form a Legal Contract with one of the five Black Winged Chains, Raven. Though he had hoped to use the Raven to free Oz from Abyss a decade after Oz's disappearance, Alice, a Chain, beat him to the punch. As he was the only person capable of sealing Alice's power so as to prevent strain on Oz's body, Gil accompanied the two in their quest to find Alice's memories.
Embarrassed by having aged ten years and joined an enemy house, Gilbert initially hid his identity from Oz. However, he is quickly confirmed to be Oz's former valet by Zwei, a Baskerville intent on antagonizing Gilbert.[1]
He, Oz, and Alice made up the central protagonists of Pandora Hearts.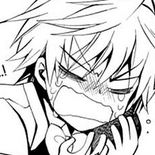 Uwaaaaah! That is such a spoiler!
This article contains plot and/or ending details for Pandora Hearts.
Read at your own risk.
Born over a century prior to most of the events of Pandora Hearts, Gilbert's biological parents are never revealed or elaborated on, though he is stated to be of "humble birth"[2] and is somewhat implied to have been born into poverty.[3] A year after his birth, his younger brother, Vincent, was born. Though only Vincent was a Child of Ill Omen, both brothers were sold off by their mother.[3] For the next several years, the two endured numerous harsh conditions. As Children of Ill Omen experienced considerable prosecution, Gilbert was obligated to protect his younger brother from physical assault and exclusion for his condition. They are implied to have spent most of their childhood homeless, though Gilbert narrated that some nobles were fascinated by Vincent and would take them in as "pets."[2] When the two were slightly less than ten, on the day of the execution of Lacie Baskerville, they would encounter the Golden Droplets of Light, becoming Baskervilles.[4]
Determined by Oswald to be the next incarnation of Glen Baskerville, Gilbert was personally raised by him. Thus, it became Gilbert's destiny to execute Vincent and succeed Oswald as Glen.[5] Alongside Gilbert and Vincent were Oswald's nieces, Alice and the Intention of the Abyss. Gilbert formed an antagonistic relationship with the Alices after witnessing the Intention of Abyss tease Vincent for his red eye.[6] This escalated, and due to the deliberate manipulation of Jack Vessalius,[5] led to Vincent becoming convinced of Gilbert's impending death at the hands of their guardian. His younger brother's actions would facilitate the Tragedy of Sablier.[6] Though Gilbert fell unconscious due to an attack from Jack relatively soon into the Tragedy, he was picked up by Vincent before being dragged into Abyss.[7] This allowed him to be one of the first Baskervilles to escape Abyss. A century later, Gilbert emerged from the Vessalius Door while his younger brother emerged from the Nightray Door. His memory loss is implied to be the result of dissociative amnesia.
Appearance
Gilbert was a tall (182cm/6'0"),[8] solidly built man who looked to be in his early to mid twenties. He had golden, almond shaped eyes with thin eyelashes. In the anime, his eyes were given a greenish tint. He had a slightly wider chin and jaw than his younger brother, and is usually drawn with a thicker neck. Multiple[9] omake[10] mention him having large hands. His hair was short, black, and wavy, and he usually did not style it, though it was long enough to sometimes pull back into a small ponytail. A long, lateral scar angling upwards from his right to his left crossed his upper chest.[11]
Noted as having no sense for fashion,[12] Gilbert's choice in clothing was relatively informal, and he rarely changed outfits. For most of the series he wore a long black coat with silver details over a white shirt and black pants. He usually wore a white neck piece resembling a jabot or cravat, folded into three layers. On his right leg he wore what appears to be a lightly colored thigh holster. Up until he amputated his left arm, Gilbert would wear a pair of white gloves. He usually wears a black, wide rimmed hat. Though his outfit had many white components, he remarked that lightly colored outfits made him uncomfortable. He also wore a golden ear cuff on his left ear, though he did not have piercings.[13] Jun Mochizuki tries to draw his expressions to have both anguish and romance.[8]
As a child, his hair was styled in a slightly different manner, his bangs parted at one side instead of falling straight onto his face. Though still larger than Vincent, Gilbert was frail in build when he was young. He had numerous outfits, generally some kind of commoner's uniform, which were almost always dark. The timeline suggests he experienced a growth spurt when he was about seventeen or eighteen.[8]
Following the hundred-year timeskip, Gilbert had not visibly aged. He wore a modern black suit with a black leather glove.[14]
Personality
In his early appearances, Gil was described as timid, a crybaby, and easily frightened, but was praised for his gentleness.[1] When subjected to the whims of others, he rarely put up much resistance, and was rather cowardly and impressionable. Gil was not naturally talented, and while not stupid, he often had difficulty realizing things that were not explained to him. To make up for this, he was hardworking when it came to physically oriented or menial tasks. When confronted with potentially uncomfortable or awkward interactions, his natural compulsion was to run away. His language was often curt and unrefined, though usually not outright offensive. He was incapable of concealing his emotions or manipulating others, making him the frequent target of bullying, particularly by Oz. Despite this, he was fiercely loyal to him, his devotion to Oz bordering on obsession. At times, he was stated to be "useless" when not working for Oz's sake.[15] He was frequently described as immature or childlike, and seemed deeply ashamed of having grown physically older in Oz's absence.[11] Xerxes Break remarked that his devotion to Oz was "abnormal," and could easily result in his hurting him.[16] Multiple characters call him a "pervert"[17] or "shameless,"[18] knowing Gilbert will be too flustered to outright deny it, though this is done mostly for humor.
Though Gil earnestly loved and cared for Oz and took no pleasure in violence, he was frequently selfish and lacking in empathy. He had difficulty acknowledging or showing compassion for the feelings of others, even when said feelings were pointed out to him.[19] Though extremely protective of those he cared about, he did this not out of selflessness, but out of desire to foster dependency in the person he protected. This particularly impacted his relationship with Vincent, who he loathed, yet could not abandon for fear that no one else would need him.[2] As an adult, he grew frustrated after learning Oz would no longer make suicide attempts, believing he would lose his purpose in life were Oz to not exclusively depend on him.[18] Aware of the ethical ramifications of this, he described himself as "a very mean person" as a child, clearly anguished by his own perceived moral failing.[2] Despite this, many years would pass before he attempted to amend his behavior. Vincent described him as "weak" and "cruel," outright stating that he believed Gil would inevitably destroy all that he loved.[20]
Gilbert was obsessed with taking the role of a servant, believing he needed outside proof of his devotion to Oz. His desire for others to confirm his thoughts and dictate his actions influenced his refusal to seek his own lost memories. In order to shift the burden for his convictions onto others, Gilbert would selectively interpret and communicate information, such as insisting he was the former valet of Jack Vessalius despite being explicitly told otherwise.[2] This obsession with servitude and fear of agency was likely due to the influence of the Jurors, the gods which selected and guided the incarnations of Glen Baskerville. When he perceived a threat to the one he deemed his master, Gil would become incorrigibly and almost indiscriminately violent,[20] to the point of needing to be physically subdued and restrained.[21]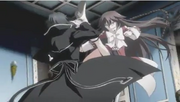 However, Gil's earnest love for Oz would triumph when he regained his memories, contrary to Vincent's expectations.[7] Despite being compelled to unquestionably obey Glen Baskerville as both a Baskerville and as Glen's former valet, Gilbert chose to amputate his own left arm to reduce the Jurors' influence on him. He apologized to Vincent, admitting to his hatred of him, but nonetheless acknowledging him as an essential part of his life and promising to protect him from further anguish. After returning to Oz, Gilbert rejected the concept of "realness" and his intended role, instead desiring to remain with his loved ones even at the cost of his life.[22]
Overall, while Gil was often selfish and lacking in moral conviction, he was deeply loyal and capable of showing great care for others. His vulnerability and sincerity fostered feelings of warmth in others, and would allow him to rectify once tumultuous relationships, such as those he had with Vincent and Alice. While his singular devotion bordered on the pathological, his purity of heart redeemed him.
Powers & Abilities
Proficiency in Firearms - Gilbert had trained in firearms since he was about sixteen, and duel wielded pistols in adulthood. Though he is said to be a remarkably good shot, he is still beat out by his younger brother.
Menial Tasks - As a consequence of his childhood upbringing as a servant, Gilbert excels at a number of household chores. This includes cleaning, cooking, and knitting.[23]

Though most of his skill in these areas is implied to be the consequence of his time with the Vessalius Dukedom, he actually learned to cook as a teenager following his adoption.

Limited Immortality - As a Baskerville, Gilbert's body is more similar in construction to that of a Chain than a human, and thus cannot be killed by mortal weapons, though he can be harmed or disabled. Only weapons charged by Chain Killers or exceptionally powerful Chains (as in the case of Oz scarring him)[17] are capable of causing fatal wounds to Baskervilles.
Eternal Youth - Gilbert did not appear to age over the course of a century; however, his youth is only superficial, and he implies he will die of old age soon following the hundred year timeskip.[14]
Reality Warping - As an incarnation of Glen Baskerville, Gil passively warps reality around him, though the specific nature and full extent of this warping is unknown. It was through this warping that Vincent was created.[24]

All denizens of Abyss, Baskervilles included, have the passive ability to slightly warp reality for humans. However, this is not considered advantageous, as it generally encourages humans to act in a violent manner, and makes Baskervilles far more likely to be subjected to abuse.[25]

Immunity to Abyss - All Baskervilles have an increased resistance to the negative effects of Abyss, due to being denizens of Abyss themselves. They are able to maintain "illegal" contracts indefinitely,[22] and do not suffer the same madness induced in humans who interact with Abyss.
Chain
See more: Raven
Raven was one of the Five Black Winged Chains, Chains originally reserved for Glen Baskerville but distributed among the Four Great Dukedoms following the Tragedy of Sablier. Raven was the Nightray Chain; however, it had not been successfully contracted even once until Gilbert's adoption. It took the form of a gigantic, half-skeletal raven wrapped in large chains. It sometimes was depicted as having a more shadowy form, in which it had many eyes.
Sealing Powers - Raven was able to seal the powers of other Chains in his contractor's left hand, making the Chain unable to exert its full power. This power could be unsealed when Raven's contractor touches the sealed Chain's contractor with his bare left hand. Gilbert used this power on Alice for much of the early series to prevent her presence from putting too much strain on Oz's body.[26]

This seal would lose effect if Gilbert summoned Raven or used one of his other powers.[27]
Portal Opening - Raven had the ability to open portals to other dimensions, such as from the material world to Abyss, or Cheshire's Dimension back to the material world. However, this put considerable strain on his contractor, to the point that Gilbert was incapacitated for several hours after opening one portal.[27]

Chains of Condemnation - Like all Black Winged Chains, Raven was able to open a portal to Abyss and summon the Chains of Condemnation, chains which bind those his contractor deems "sinners" and drag them to the depths of Abyss. However, Gilbert was never shown using this power.

Feathery Flames - Raven could create blue flames from his wings that, as an exceptionally powerful Chain, are dangerous even the Baskervilles. These flames appeared to have physical properties, capable of breaking several windows, but did not appear to set fires.[22]

These flames could be localized precisely enough that Gilbert is able to use them to amputate and cauterize his own left arm.[22]
Quotes
"Protecting the master... is supposed to be my job!"
"No matter what happens, I will be beside you."
"What were you thinking?! Do you have that much of a death wish?!" (Following Noise almost making Gilbert shoot Oz using Duldum)
"Even now, I want to stay as your servant."
"Don't say it. It was to get my hat back..." (to Oz when he unleashed Oz's powers so Alice could win his hat back)
'Oz...I am...a Baskerville. And yet, in spite of that...I am your faithful servant. That won't change. No matter what you do...no matter what you say...that is not going to change. Not in the least!' (declaring his loyalty to Oz in Chapter 78)
"Shut up, you stupid rabbit."
"In other words, it'll be fine if you die!" (to Alice when she asked him how to erase Oz's Illegal Contractor Incuse)
"Protecting the Master is my job...even so he...is always on his own..."
"…When I…think about the succession ceremony tomorrow, I become…unable to sleep…"
"After tomorrow's ceremony…I heard that there will be many distinguished people that I will have to greet. Will Master Jack be there?"
"Um…Master Jack is always so kind and fun and peaceful. If I can meet him tomorrow then surely, surely…I feel that my nervousness will just go away somewhere…"
To Himself
"We...are not connected by light, but darkness instead. I've always thought so...No. I wanted to think like that. Oz is heading toward the light, and left me behind."
"Was it all...a lie? Everything that...that Jack...said..." (Gilbert questions everything after remembering the Tragedy of Sablier)
"I understand now... A wound like this... Is not enough to kill me."
"I guess there's nothing to be afraid of anymore."
Appearances
(*) - Denotes that the character did not appear physically, but as a part of another character's memories.
Trivia
Gilbert's name means "bright pledge" in Old German.
His Western Zodiac sign is Aquarius.
His likes are, in order, coffee (black, without sugar), the color black, bargain sales, and fresh ingredients. His dislikes are, in order, Oz's father, cats, the Nightray family, Duke Nightray, that which harms his master, and bell peppers.[8]
Gilbert's fear of cats is likely a reference to "Alice's Adventures in Wonderland", when Alice scared off a mouse and some others animals by talking about her pet cat Dinah. Gilbert is probably somewhat inspired by this mouse, as his brother Vincent is associated with the Dormouse, the other rodent in the book.
In the earliest drafts of Pandora Hearts, Gilbert was the protagonist. As his character and the story continued development, Oz, originally a minor female character with a crush on him, became male and took his place as the protagonist.
His character song is named "Truth."
Though numerous characters state his age as 24, the Evidence guidebook states that his age is technically unknown. When he first met Oz, he had no idea what his age was. As such, Oz declared him to be a year younger than himself.

While his amnesia was originally cited for his lack of knowledge, it's quite likely Gilbert simply doesn't know his actual birthday. Vincent's age is also marked as "self described" (自称, jishou), having only cared to identify as a year younger than Gilbert. Oswald and Lacie, whose backstories parallel Gilbert and Vincent's, are marked as having unknown ages (though their ages are approximated as 27 and 25 respectively). Given he was trafficked at an early age, it is unlikely that any legal record of his birth exists.[8]

His voice actor, Kohsuke Toriumi, is the same voice actor in Naruto as Kiba Inuzuka and Bleach as Szayel Aporro Granz.
References