Welcome to the Wiki!
About Us · Community Portal · Recent Changes · Policy · Images · Active users · Wanted Pages · Help]
Reminders and Warnings
Read wiki policy before commenting or editing.
Use discretion in discussing serious topics.
Avoid edit wars.
Do not upload unnecessary images.
Fanart will be deleted.
Posting leaks will result in a ban.

Main Characters - Pandora Hearts
Main Characters - The Case Study of Vanitas
Main Characters - Crimson Shell
Latest The Case Study of Vanitas Chapter
The Case Study of Vanitash!!!! -Expanded Edition-
Last chapter was basically totally uneventful, and it certainly didn't end on any sort of cliffhanger. You'll all be just fine not knowing what happens next for at least another month, right? Anyway here's Vanitash!!!!
With a new volume release in short order, and The Case Study of Vanitas's anime release being set for this July, the story takes a break to give Jun Mochizuki some breather room (whew)! Instead, June 2021's The Case Study of Vanitas release takes the form of a lighthearted non-canon chapter. Styled after the ゔぁにたしゅのかるてっ Japanese magazine releases, this chapter reveals some information about the characters and the upcoming anime release.
Please keep Noé, Vanitas, and the rest in your hearts for the next couple months as Mochizuki prepares for the upcoming releases. Until then, please enjoy the bonus content.
Latest Pandora Hearts Chapter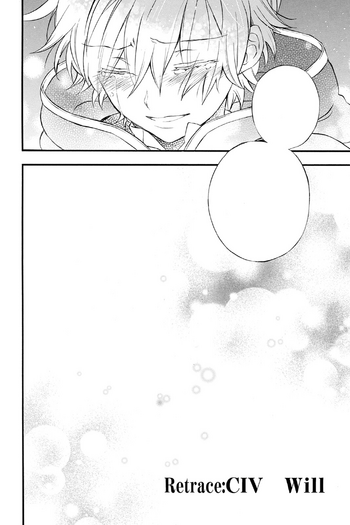 Retrace CIV: Will
"Someone once said that that place was consumed in darkness, but that doesn't mean… that there was never any light."
As the trees sway in the wind a sleeping Oz is awakened by the sounds of his friends calling his name. As he looks up he sees Alice and Gilbert rushing to his side, with Alice scolding him for wandering off without telling her first and Gilbert noting that no matter how warm it may be, Oz will catch a cold if he falls asleep outside. Apologizing, Oz admits that he must have been so comfortable that he dozed off - prompting Gilbert to wonder if they should just call it a day if Oz is so worn out, though Oz assures him that he's fine to carry on. For a moment, Oz becomes transfixed on the world around him, mentioning how happy he is that it's a bright sunny day.
Just then, Alice notices something and points out that there's a cat (Cheshire) sitting in the tree above them, confusing Oz and frightening Gilbert. Thinking it over, Oz suggests that one of the guests at the tea party must have brought it with them, while also noting that Cheshire is making a somewhat arrogant face at them. Alice states that Cheshire looks tasty, but when Gilbert advises her not to eat Cheshire, Cheshire jumps down from the tree and scurries away. Although Oz is surprised and unnerved by Cheshire's disappearance, he's interrupted when Elliot and Leo come along.
Latest Crimson-Shell Chapter
Sprout VI: Epilogue of Prologue
After having shot Claudia, Shion walks around the room and unloads his Death Scythe Gun; asking Claudia if she was aware that there are two kinds of Death Scythe bullets. Continuing, Shion reveals that the one he'd just shot her with allows him to control a Rose's movements. Pulling out a new bullet, Shion explains that this bullet is capable of melting away Claudia's entire body, being the only thing that can guide her to her death; asking if it wasn't a fitting fate for her before calling her a filthy Crimson Rose.
This makes Claudia remember Xeno, and while struggling to use her strength she turns to see Xeno collapsed against a nearby wall. Claudia outright refuses to give up on life and leave Xeno, encouraging herself to move quick as she pushes herself to her feet; much to Shion's chagrin. Claudia accuses Shion of being the one to make Xeno say the awful things he'd said to her. Amused, Shion attacks Claudia with his thorned thorns - but as she braces herself for the attack, Claudia's own thorns defend her from Shion. Jumping to a nearby window, Claudia worries that she'll be unable to control her thorns for much longer, but is shocked to see that she could still move; instead calling Shion's bluff by writing off his Death Scythe as useless for being unable to take down the likes of her, a mere failure.
Affiliated Wikis
If you would like to become an affiliate of the Pandora Hearts Wiki, Contact Us.

News!
Image of the Month
A newly released key visual for a Case Study of Vanitas anime adaptation, produced by Studio BONES.
Twitter
Contribute to this Wiki!
To write a new article, just enter the article title in the box below.
Not sure where to start?
Pandora Hearts Websites
The Case Study of Vanitas Websites
Recent Blog Posts
Community content is available under
CC-BY-SA
unless otherwise noted.