Welcome to the Jun Mochizuki Wiki!
Reminders and Warnings
Read wiki policy before commenting or editing.
Use discretion in discussing serious topics.
Avoid edit wars.
Do not upload unnecessary images.
Fanart will be deleted.
Posting leaks will result in a ban.
Contribute to this Wiki!
To write a new article, just enter the article title in the box below.
Not sure where to start?
Last Pandora Hearts Chapter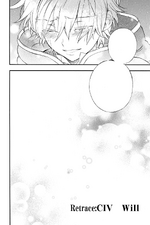 Retrace CIV: Will
"Someone once said that that place was consumed in darkness, but that doesn't mean… that there was never any light."
As the trees sway in the wind, a sleeping Oz is awakened by the sounds of his friends calling his name.
Read more ▸
Last Crimson-Shell Chapter
Sprout VI: Epilogue of Prologue
"Because the end is the beginning… will it begin again?"
After having shot Claudia, Shion walks around the room and unloads his Death Scythe Gun — asking Claudia if she was aware that there are two kinds of Death Scythe bullets.
Read more ▸
Main Characters - Pandora Hearts
Main Characters - The Case Study of Vanitas
Main Characters - Crimson-Shell
Latest The Case Study of Vanitas Releases
Mikhail pleads with Vanitas to join him. Dominque comes to terms with her inner self. Mikhail unleashes terror on his foes, but the book exacts a toll. An unexpected figure appears amid the ruins. Vanitas mends fences with Noé and parts ways with Mikhail.
Read more ▸
News
The cover art for the 7th DVD of the The Case Study of Vanitas anime was revealed. The DVD will be released on May 25, 2022.