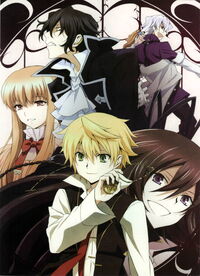 With director Takao Kato, studio Xebec produced a 25 episodes anime adaptatation with music featured by Yuki Kajiura and themes by Savage Genius and FictionJunction. The series premiered on April 3, 2009 and ran until September 25, 2009. The series broadcasted on TBS, BS-TBS, CBC and MBS for its initial run. On February 11, 2010, NIS America announced the licensing of the series in North America, and released English-subtitled DVDs of the anime on October 26, 2010.
Synopsis
Oz Vessalius, heir to the Vessalius Family, has just turned fifteen. He has been living a rich and carefree life --- yet darkened only by the constant absence of his father. At his coming-of-age ceremony, however, everything changes. For no reason that he can discern, Oz is cast into the prison known as the "Abyss", only to be saved by a "Chain" known as Alice, the Bloodstained Black Rabbit; B-Rabbit for short. The mystery there begins as Oz unravels the mystery behind Alice, the Abyss, and the strange organization known as Pandora. The series features heavy references to Lewis Carroll's Alice's Adventures in Wonderland and Through the Looking-Glass and can be considered both fantasy and mystery.
Episode List
Coming of Age Ceremony Arc
Oz Vessalius, heir to the Vessalius dukedom, has just turned fifteen. The preparations for his Coming of Age Ceremony are finished and the day of the ceremony has come. However Oz senses that something is wrong.
Working for Pandora Arc
When Oz and Alice have finally decided what they wanted to do, they head for their first mission along with Raven. They go to the place where the Coming of Age Ceremony was held. There they find one of the Baskervilles and the true identity of Raven. After the danger is over; Oz, Alice and Gil go to look at the unknown grave. However on their way, they get caught in the illusion of the Intention of the Abyss.
Clockwise Doom (Episode)
時計回りの悪夢
Tokeimawari no Akumu
#05
April 30, 2009
Oz, Alice and Raven receive their first mission.
Where am I? (Episode)
食い違った現在地
Kuichigatta Genzaichi
#06
May 7, 2009
Oz decides to go back to the place where his coming of age ceremony was held, only to find out the shocking truth.
Whisperer (Episode)
深淵からの呼び声
Shin'en Kara no Yobigoe
#07
May 14, 2009
Oz, Raven and Alice meet The Will of the Abyss.
Question (Episode)
隠者の問い掛け
Inja no Toikake
#08
May 21, 2009
Oz meets a boy named Phillipe.
Malediction (Episode)
呪いの言葉
Noroi no Kotoba
#09
May 28, 2009
A chain named Grim appears, along with its contractor. Who turns out to be...
Grim (Episode)
重なる影
Kasanaru Kage
#10
June 4, 2009
Oz questions Phillipe's father as to why he agreed to the contract.
Cheshire's Dimension Arc
While in the city, Alice and Break get kidnapped by the Cheshire Cat. Oz and Gil hurry to save them.
A Lost Raven (Episode)
堕とされた鴉
Otosareta Karasu
#11
June 11, 2009
Gilbert remembers what he did 10 years ago while Oz was in the Abyss.
Welcome to Labyrinth (Episode)
鏡の国
Kagami no Kuni
#12
June 18, 2009
Alice,Break,Oz and Gil enter Cheshire Cat's dimension.
Keeper of the Secret
歪んだ記憶の住人
Yuganda Kioku no Jūnin
#13
June 25, 2009
They begin to fight Cheshire.
Hollow Eye Socket
紅き隻眼の悪魔
Akaki Sekigan no Akuma
#14
July 2, 2009
Oz and Gil meet up with the mysterious person named, Jack Vessalius.
Who killed poor Alice? (Episode)
誰がための言葉
Ta ga Tame no Kotoba
#15
July 9, 2009
Oz and Alice manage to escape the dimension, but with Gil and Break left behind ?
His Name is...
英雄と少年
Eiyū to Shōnen
#16
July 16, 2009
Jack takes over Oz's body and gives a speech.
Lutwidge School Arc
Uncle Oscar takes Oz, Alice, and Gil to a school where Oz's sister, Ada, goes. It is because of the letter that she wrote (stating that she is in love with someone) that made Uncle Oscar concerned. There Oz and his sister reunite. However, Oz hears a familiar song. Who plays it? Why are the Baskervilles there and how will Jack help Oz?
Hello My Sister!
懐旧の旋律
Kaikyū no Senritsu
#17
July 23, 2009
Oz finally meets his little sister Ada, but what is this music he hears ?
Eliot & Leo
とある従者の死について
Toaru Jūsha no Shi ni Tsuite
#18
July 30, 2009
Oz and Ada get captured by the Baskervilles, only to be rescued by Elliot and Leo.
The Pool of Tears
涙の池
Namida no Ike
#19
August 6, 2009
Oz, Ada, Leo and Eliot finally manage to escape the Baskervilles, with the help of Jack ?
Break's Past Arc
Oz, Alice, Gilbert, Break, Sharon, and Uncle Oscar have a party to celebrate everyone's hard work. The next day Rufus Barma invites them for a tea. However, Barma's true intentions are to reveal Break's secret past.
Modulation (Episode)
うつりゆく音
Utsuriyuku Oto
#20
August 13, 2009
Everyone was at a party drinking vine.
Snow White Chaos (Episode)
純白のくろ
Junpaku no Kuro
#21
August 27, 2009
Oz, Alice, Gil and Break went to see Duke Barma for some answers.
Countervalue of Loss (Episode)
失意の対価
Shitsui no Taika
#22
September 3, 2009
Break continues telling his story about the Tragedy of Sabrie and meeting The Will of the Abyss.
Chain Invasion Arc (Anime Only)
Desperate to find out the truth, Oz, Alice ,Gil, Break, and Sharon are thinking of what to do next. Gilbert decides to go ask his brother Vincent but with no luck he fails to obtain any information. However, when the group is wandering around gathering information, they see different chains attacking the city. They battle the chains and find one piece of Alice's memory.
A Warp in the World
軋む世界
Kishimu Sekai
#23
September 10, 2009
The team was wondering where to get more information. With that in mind, Gil went to visit his brother Vincent.
Kyrie
憐れみの讃歌
Awaremi no Sanka
#24
September 17, 2009
All kinds of different chains start attacking the city. Alice and Oz manage to stop them, along with getting one of Alice's memory fragments.
Beyond the Winding Road
否定の彼方へ
Hitei no Kanata e
#25
September 24, 2009
Oz decides to go meet his father.
DVD Covers